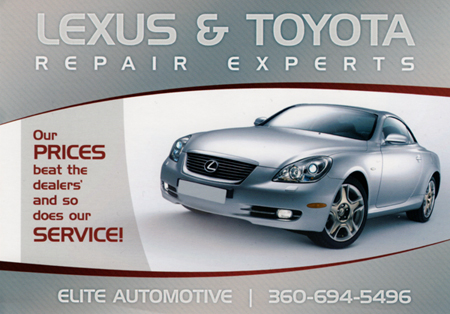 For those of you who have enjoyed the services of Elite Automotive, but were disheartend when you found out that they have closed their doors. WE HAVE GREAT NEWS, Ryan Syring has joined forces with Integrity Auto. A letter of recommendation from Tom Gilstrap owner of Elite Automotive.
Dear Friends and Customers,
Thank you for allowing us to care for your car this past year. It's been a privilege to serve you, and we know it. As many of you know, we closed the doors at Elite Automotive located at 6920 NE Fourth Plain Blvd. #B, Vancouver, WA. 98661 at the end of our first year in business. This is a tough economic time for many—especially for new business start-ups.
Many of you were especially pleased with the service Ryan Syring offered as our technician here. You'll be pleased to know that he will still be available to service and repair your vehicles. He has joined up with Integrity Auto: Independent Toyota Specialists—a like-minded shop just off I-205 in SE Portland that specializes exclusively in Toyota, Lexus, and Scion products, with Hybrids included. (They also service the Geo Prizm and the Pontiac Vibe—each of which were made by Toyota for GM.)
For those of you who aren't personally acquainted with Ryan:

Graduated from Clark Community College's Toyota-sponsored automotive program.
1999 Post Secondary Level VICA Automotive Skills Competition—took 1st in Washington State, took 9th in the Nationals.
Worked for Lexus and Toyota for nearly 10 ½ years.
2007: 1st place in the regional Lexus Master-Tech-of-the-Year troubleshooting contest for WA, OR, AK, and ID.
Was a lead master diagnostic specialist for Lexus, with responsibilities in all facets of automotive diagnostics & repair and customer service.
Was the lead Hybrid diagnostic specialist at Lexus.

It's a rare individual that can offer the combination of professional competence and personal service that he offers.
In addition to my endorsement of Ryan, I'd like to say that Integrity Auto gives every indication that they share similar values to what we held at Elite Automotive. They are professional-minded with a strong emphasis on establishing and maintaining high levels of trust as they seek to address their customers' concerns. You can learn more about them at their web site (integrityautoinc.com) where, among other things, they have an extraordinary collection of customer testimonial letters. You can call them at 503-408-6385, or 360-693-6363.
Yours truly,
Tom Gilstrap
ASE Certified Independent Toyota, Lexus & Scion automotive service and repair specialists serving PDX, Portland, Gresham, Beaverton, Clackamas, Oregon City, Fairview, Gladstone, Milwaukie, Oak Grove, Troutdale.